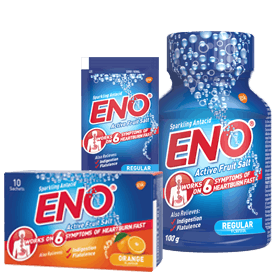 FAST HEARTBURN RELIEF – POWERED BY BUBBLES!
When your stomach's upset, so is the rest of you. But have no fear! Combat the symptoms of heartburn, including acid reflux and indigestion, with the fizz that fights fast - ready to work in just 6 seconds.*
*Clinical study to determine effect of ENO® Regular on intra-gastric pH in healthy subjects. Does not imply relief.
** Does not imply relief or neutralisation of all the acid in the stomach. GSK/GDS to advise

Choose from two great flavours for a lift that lasts. Besides regular Flavour, ENO Powders come in Orange.
- PRODUCT DETAILS:
Therapeutic indications: For relieving acidity
Method of administration: Dissolve the powder in water before taking
Composition: (Per 5g) Svarjiksara (Shudh) 2.91g Nimbukamlam (Shushkam) 2.04g
Contains permitted sweetener, Sodium Saccharin 5mg/5g and permitted colours,
Brilliant Blue FCF & Tartrazine. Permitted flavors added q.s
Contains no fruit pulp extracts
+ WARNINGS AND PRECAUTIONS
- WARNINGS AND PRECAUTIONS
Do not take this medicine for more than 14 days
Consult doctor if symptoms persist or worsen
This product reduces the acidity of your stomach and may interfere with how other medications are absorbed – therefore, please consult with your doctor for possible drug interactions
Keep out of reach of children
Do not exceed the stated dose
SIZING
It is available in the following convenient sizes:
- 10 sachets (5g/sachet)
- 20 sachets (Regular flavour only)
- 72 sachets (5g/sachet)
- 100g bottles
- 200g bottles (Regular and Orange
flavour only)