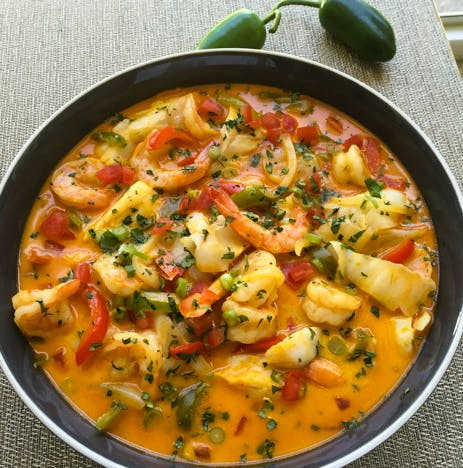 Most Moquecas require making a fish broth. This version omits that step, saving lots of time without skimping on flavor.
Prep Time: 15 minutes
Cook Time: 25 minutes
INGREDIENTS:
¼ cup (57g) olive oil
1 teaspoon annatto seeds
3 tablespoons fresh lime juice
4 garlic cloves, minced, divided
¾ teaspoon salt, divided
¼ teaspoon ground black pepper
1 ¼ pounds (550g) red snapper or cod fillets, cut into 3-inch chunks
1 medium onion, halved and sliced
1 green bell pepper, seeded and sliced
1 red bell pepper, seeded and sliced
1 jalapeno pepper, seeded and minced
2 bay leaves
1 cup coconut milk
1 pound (450g) medium-size shrimp, 31-40 count
4 scallions, trimmed and finely chopped
2 small plum tomatoes, seeded and diced
3 tablespoons (85g) chopped fresh cilantro
DIRECTIONS:
Heat the bottom of a 4- to 5-liter heavy bottom saucepan, such as a Dutch oven, over medium heat. Add oil and annatto seeds. Cook 1 minute, or until the oil changes color to golden-orange. Remove from heat; cool 2 minutes.
Transfer 2 tablespoons oil to a shallow dish or resealable bag. Add lime juice, 2 minced garlic cloves, ¼ teaspoon salt and the pepper. Add fish fillets to marinade. Cover and refrigerate 30 minutes.
Remove annatto seeds from saucepan. Heat remaining oil over medium-high heat. Add onion, green and red peppers. Cook, stirring frequently until softened, about 5 minutes. Add jalapeno, bay leaves, remaining 2 minced garlic cloves and ½ teaspoon salt. Cook 1 minute. Stir in coconut milk.
Gently stir in shrimp and fish with marinade. Bring mixture just to a soft boil. Cover, reduce heat to low and simmer 15 minutes, or until fish and shrimp are cooked through. Divide mixture among serving bowls; top with scallions, tomato and cilantro.
Makes 4 servings (Per serving: 1 ½ cup, 387g)