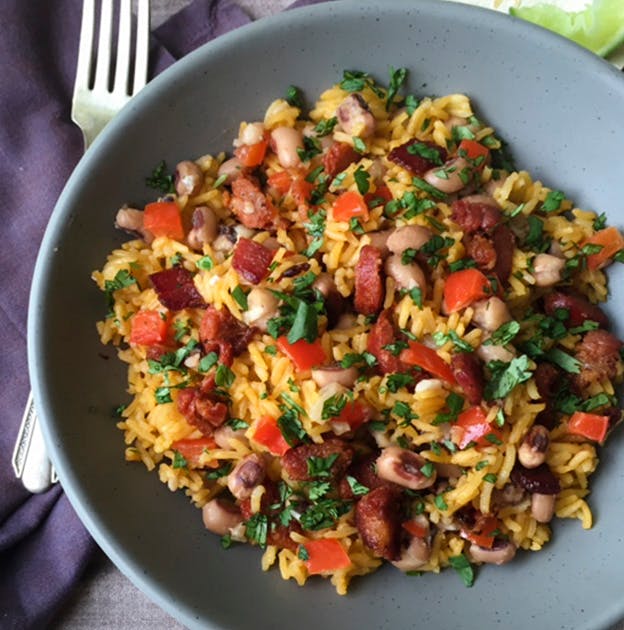 No time for soaking black-eyed peas overnight? No problem. Use canned black-eyed peas, and you'll have dinner ready in minutes.
Prep Time: 15 minutes
Cook Time: 35 minutes
INGREDIENTS:
6 ounces (174g) thick-cut or slab bacon, diced
5 ounces (140g) chorizo, diced
1 medium sweet onion, finely chopped
1 small red bell pepper, seeded and diced
4 cloves garlic, minced
1 teaspoon ground annatto seed
2 cans (15.5 ounce, 439g each) black-eyed peas, rinsed and drained
1 ¾ cups (344g) long grain rice
3 ¼ cups water
½ teaspoon salt
½ cup crumbled Queso Blanco cheese
¼ cup (113g) chopped fresh cilantro
DIRECTIONS:
Heat the bottom of a 4- or 5-liter heavy bottom saucepan, such as a Dutch oven, over medium heat until hot. Add bacon; cook, stirring frequently, 4 minutes. Add chorizo and cook, stirring often until bacon is crisp, about 5 minutes more. Using a slotted spoon, transfer bacon and chorizo to a paper towel–lined plate and set aside.
Add onions and bell pepper to the saucepan with drippings; cook, stirring frequently, until vegetables soften, 5 minutes. Stir in garlic and annatto; cook 30 seconds. Stir in peas and rice.
Add water, stirring once; heat to boiling over medium-high heat. Boil 1 minute, reduce heat to low, cover, and cook 20 minutes, or until liquid is absorbed and rice is fluffy.
Remove saucepan from heat, and stir in bacon, chorizo and cheese. Cover and let rest 10 minutes. Divide mixture among serving bowls and top with cilantro.
Makes 6 servings (Per serving: about 1 ½ cups, 282g)