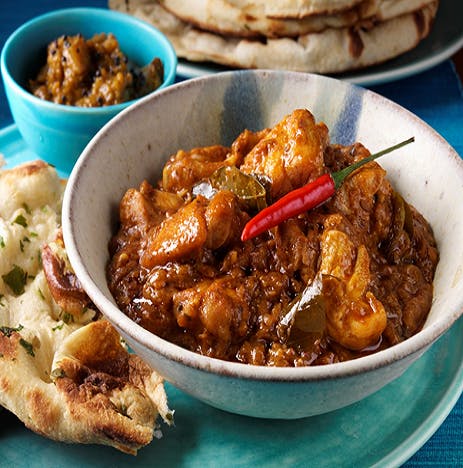 Serve it with curried daal and basmati rice. Don't forget to add chutney and sambals! Enjoy!
- Prep Time: 15 mins
- Cook Time: 50 mins
- Total Time: 65 mins
INGREDIENTS
2kg skinless chicken thighs or breasts
3 large grated onions
5 skinless tomatoes
1 large tin tomato paste
4 heaped teaspoons masala
3 bay leaves
2 dessert spoons crushed garlic
1 table spoon coriander
2 teaspoons salt
2 teaspoons sugar
1 litre red wine (optional) or stock
6 Large potatoes cut in half
METHOD
Sauté your onions and garlic until soft, then add the spices and let simmer for a couple of minutes.
Add tomatoes and tomato paste together with some red wine – simmer for about 5 minutes.
Add chicken pieces and potatoes with a little more wine.
Place the lid on your potjie, simmer on a low heat for about 45 minutes, checking the liquid level regularly, adding more red wine when needed.
About 15 minutes before you are ready to eat add sugar to taste.