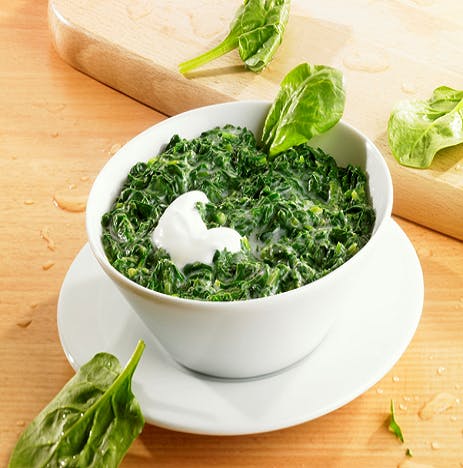 Creamy spinach is a great addition to any meal or a meal in itself.
- Prep Time: 5 mins
- Cook Time: 18 mins
- Total Time: 23mins
INGREDIENTS
1 tbsp olive oil
2 tbsp butter
1 onion, finely chopped
3 garlic cloves, crushed and finely chopped
Salt and pepper to taste
1 tbsp cake flour
Small handful thyme leaves
Pinch of nutmeg
400g ( 2 packets ) baby spinach
125 ml cream, slightly warmed125 ml Parmesan, finely grated
METHOD
Rinse spinach with cold water, squeeze spinach to remove as much liquid as possible; coarsely chop, and set aside.
Heat the oil and butter in a saucepan over medium heat and sauté the onion and garlic for 5 minutes until soft. Season to taste.
Sprinkle with the flour, thyme and nutmeg, stir and cook for a further 3 minutes.
Add a little cream and the spinach and let the leaves wilt. This can be done in natches if there is too much spinach for the saucepan. Keep stirring the spinach mixture to prevent it from burning. Should take about 8-10 minutes.
Toss together with the remaining cream and the Parmesan. Mix thoroughly and stir through. Season to taste.