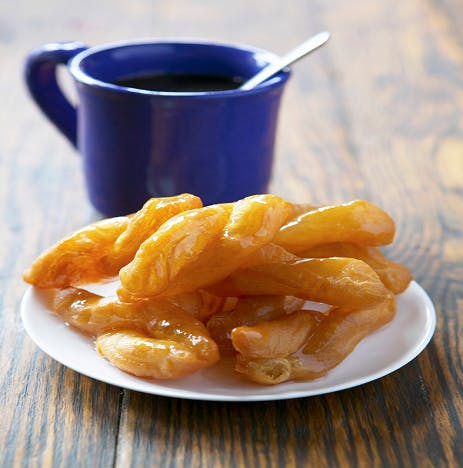 The sweet taste of these plaited dough cakes makes them a great favourite in South Africa. The secret of their success is in preparing the syrup a day ahead and chilling it before dipping the koeksisters.
- Prep Time: 45 mins plus 2 hrs - overnight resting
- Cook Time: 20 mins
- Total Time: 65 mins plus 2 hrs - overnight resting
INGREDIENTS
For the syrup:
1kg sugar
500ml (2 cups) water
2 pieces fresh green ginger (each 5cm), peeled and crushed
2ml (½ teaspoon) cream of tartar
Pinch of salt
Grated rind and juice of ½ lemon

For the dough:
500g flour
2ml (½ teaspoon) salt
30ml (2 tablespoons) baking powder
55g butter, grated
1 egg
250-375ml (1-1½ cups) milk or water
METHOD
To make the syrup, put all the ingredients in a saucepan. Heat (stirring) until the sugar has completely dissolved. Cover the mixture and boil for 1 minute. Remove the saucepan lid and boil the syrup for a further 5 minutes, but do not stir it. Remove the syrup from the stove and allow it to cool for at least 2 hours in a refrigerator, or overnight.

To make the dough, sieve together the dry ingredients and rub in the grated butter with your fingertips, or cut it in with a pastry cutter. Beat the egg, add 250ml (1 cup) of the milk or water and mix lightly with the dry ingredients to soft dough. Add more milk or water if the dough is too stiff. Knead well until small bubbles form under the surface of the dough. Cover with a damp cloth and allow to stand for 2hours or overnight

Roll out the dough to a thickness of 1 cm, then form koeksisters in either of the following ways:
Cut strips 1 cm wide and twist 2 strips together, or plait 3 strips together, cutting the twisted, or plaited lengths at 8cm intervals and pinching the ends together.

Alternatively, cut the dough into 8cm x 4cm pieces. Cut 2 vertical slits in each piece, reaching to 1cm from the end. Plait the 3 strips that have been formed and pinch together the loose ends.

Heat 7-8cm deep oil to 180-190°C – a cube of bread should turn golden-brown in a minute. Fry the koeksisters for 1-2 minutes, or until golden-brown, then turn them over with a fork and fry until golden-brown on the other side.

Remove the koeksisters with a lifter or slotted spoon, drain them for a moment on paper towel and then plunge them into the cold syrup for 1-2 minutes. Stand the container of syrup in a bowl of ice so that the syrup will stay cold. Remove the koeksisters from the syrup with a lifter or slotted spoon, allowing the excess syrup to flow back into the basin, and then drain them slightly on a wire rack.